Litigation Services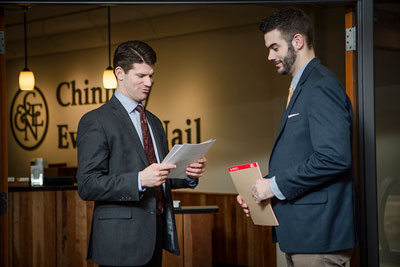 Chinnery, Evans & Nail, P.C. is pleased to offer our clients litigation services that focus on the core areas of our practice: General Civil Litigation, Probate and Trust, Business Law and Real Estate Law. Chinnery, Evans & Nail, P.C. is able to provide our clients with the following:
Probate and Trust – litigation focusing on disputes pertaining to guardianship and conservatorship, and probate disputes concerning creditors, heir disbursements and much more.
Business Law – the business practice handles disputes for businesses of any size and at every phase of litigation. Chinnery, Evans & Nail understands that for every business, small, medium and large, an effective legal team is vital to ensure the continued success of the business.
Real Estate Law – the real estate practice has vast experience in landlord/tenant law, construction disputes, quiet title claims and much more.
General Civil Litigation – this practice area focuses on civil litigation and trial work, both defending and prosecuting cases on behalf of clients. The practice focuses on the areas of injury litigation, insurance litigation, and subrogation litigation.
When working with Chinnery, Evans & Nail, P.C., we can ensure that we will work tirelessly on behalf of our clients.